Thursday, September 15, 2022 / by Margie Wright
Cooler weather is on the way, the leaves are starting to (very slowly) turn, and we're able to enjoy the outdoors with fewer pests around! It's time to enjoy your backyard for some fall entertaining. Whether you decide to host friends, family, neighbors, or a mixture of them, your backyard deck, patio, or yard can be transformed into a gorgeous fall dinner party setting. While it's still on the warmer side, you'll be able to enjoy the evening air in comfort with good food and good times had by all.
Let your food do the decorating work! Turn your appetizers or desserts into a gorgeous centerpiece. A simple clear cake stand decorated with fall leaves is the perfect display for finger foods or parfaits.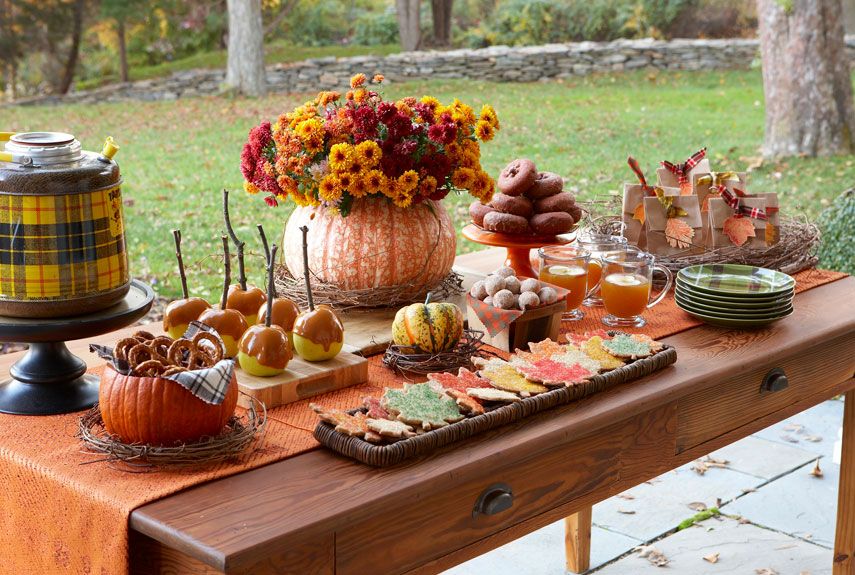 The number one tip for styling a fall themed tablescape is leaves! Gather the leaves yourself or visit a craft store. Choosing craft store leaves means getting the perfect colors and longer lasting decor that can be used in the future! A simple table covering in yellow or orange is the perfect backdrop to these leaves. Scatter them as if they were a table runner. Adorn with mini gourds, pumpkins, and fall flowers. Carnations are a beautiful and inexpensive flower to use. Vary the decorations across the table, placing decor on stands and straight onto the table for a truly fall variety.
Keep place settings simple. You can never go wrong with white dishes. Match the decor with yellow, red, or orange colored napkins layered with a ribbon and gold calligraphy place card. It's super easy to find place cards on sites such as Etsy, or you can make them your own. Handmade or typed up and printed in a document, your dinner guests will appreciate the personal aspect. Use matching glassware, or opt for clear glass with a ribbon wrapped around it for a fun twist! Gold silverware is a great touch to tie in with the gold calligraphy. You can even find plastic options!
And of course, you can't go without essential fall flavors and good food! Here's a few menu ideas (with links to get the recipe):
-
Pumpkin Spice Cinnamon Rolls
-
Apple Tarts
-
Skillet Lasagna
-
Cheesy Beef and Sweet Potato Taco Casserole
-
Chicken and Dumplings
-
Pumpkin Bacon Mac and Cheese
Make sure to include some fun times as well. Having cornhole set up means fun competitions for all ages. After dinner, as it gets darker, set up a fire pit and a table with everything you need to make fancy smores! Graham crackers, chocolate, and marshmallows are the basis, but you can spice it up! Have different times of cookies alongside graham crackers. Peanut butter cups add a savory twist to just chocolate on smores. The sky is the limit!
---